About us
Todd Ericson and Marcela Montero
Program Coordinators:

Todd has a long history in education. As a certified English/Language Arts and Communication teacher in North America, Todd first arrived to South America in 1994 to facilitate Junior Olympic athletes´ school curriculum. Todd has coached wrestling at the collegiate level in Pennsylvania, soccer and wrestling at Eagle Valley High School in Colorado, and has educated high school students in Pennsylvania, Idaho, Colorado and Chile. Currently teaching Literature at La Universidad del Mar in Chile, Todd oversees every step of each student´s study abroad experience; he lives in Chile and is in constant contact with students, teachers, and homestay families. Academically, Todd studies and matches stateside educational standards to be sure that each student complies with their pre-set curriculum goals.
Other than studying English Pedagogy in Valparaiso, Chile, Marcela has lived in Curico her whole life. Beyond time spent teaching and speaking Spanish with incoming study abroad students, Marcela  has taught English as a Second Language in local high schools.  Currently for Chilean Adventures Marcela is in charge of student placement.
Eduardo Doerr – Lead Guide and Instructor: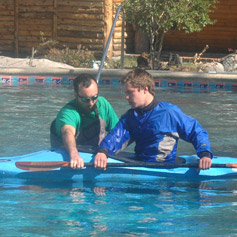 With more energy than the students he instructs, Eduardo leads the Outdoor Leadership Program. The OLP is a major component of Chilean Adventures´ programs. Eduardo´s experience teaching in the outdoors in the United Sates and Chile gives him the multicultural knowledge to work effectively with our clients. Through the OLP, Eduardo works to help students plan, follow through, and reflect on each step of their outdoor experience. While always preparing to prevent mishaps in the outdoors, Eduardo is well prepared to handle incidents as a Certified Wilderness First Responder.
CURICÓ: Locatation: 189 km south of Santiago. Population:100,438 people.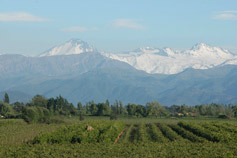 Curico´s high quality of life and stable economy can be creditted to its relative proximity to Santiago, its agricultural export businesses, and its famous vineyards. The nearby Andes Mountians provide interaction with nature and outdoor sports. Four principal snow-capped Andes peaks can be seen from town, volcanoes Planchon, Peteroa, Azufre, and Descabezado.
The Argentinian border is just 95 km to the east, however, the Andes mountains´ harsh winters limit the crossings of Curico´s local mountain pass, Paso Vergara, to the summer months. This was the very pass in which liberating General Freire marched his troops into the central valley surprising Spanish forces who weren´t expecting an attack from the formidible mountain range.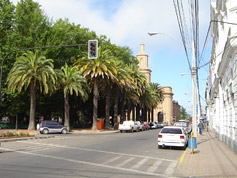 The city was founded in the year 1743 as San José de Buena Vista and later became known as Curicó. The attractions of the community: The Plaza or Center Square, declared a typical zone in 1986, is known for its kiosk which was declared a historic monument and its variety of vegetation; Cerro Carlos Condell, an island hill that has an astronomy observatory at the summit and overlooks that give us a privileged view of the city and Andes mountains in the background; The tree-lined street of Manso de Velasco, a walk of some 1400 meters long, with a large variety of sculptures, monuments and abundant vegetation; a circuit of churches, among those that stand out are San Francisco Church, declared a national monument in 1986; Huasca Atrás, a sculpture of what is considered to be the largest figure of its kind in Chile, a work of art that represents the victory traditions of the XX Century in Curicó.